Som jeg skrev torsdag i sidste uge, tilbragte jeg sidste weekend på fagskolen her i Odense, fordi dygtige Nanna havde vovet sig til Fyn for at afholde en syworkshop.
Jeg havde to virkelig hyggelige og lærerige dage. Men hold nu op hvor var jeg træt efterfølgende ..!
Jeg er ikke just et morgenmenneske, og lige for tiden hvor jeg ofte først lægger mig til at sove ved 01-02 tiden, står jeg af gode grunde heller ikke så tidligt op .. Så det var en lille smule svært, lige pludselig at skulle op før kl. 8, for at kunne være på fagskolen til 9.30.
Men det gik! – Og det var virkelig en god oplevelse at være på Nannas syworkshop! – Hun er en utrolig sød og vældig dygtig læremester!
Derfor skyndte jeg mig at melde mig til hendes næste workshop her i Odense, som foregår d. 9-10 januar 2016, igen på fagskolen.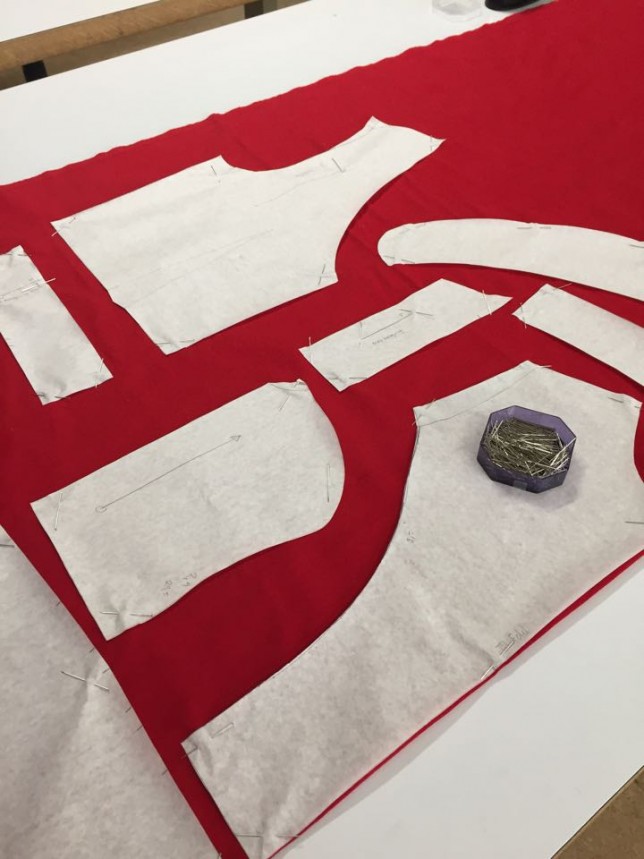 Desværre nåede jeg ikke at blive færdig med min kjole, men jeg har sidenhen syet videre på den herhjemme, og nu nærmer det sig hastigt at den bliver færdig. Måske bliver den allerede færdig i dag eller i morgen! – Jeg håber og krydser fingre!
Og når jeg så har lavet kjolen færdig, så tror jeg at jeg vil skynde mig at sy en mere, bare i noget andet stof selvfølgelig. Simpelthen for at jeg ikke alt for hurtigt glemmer hvordan den skal syes.
I øvrigt, ( som det ses på billedet ovenfor ) så valgte jeg det helt røde stof til denne kjole. Simpelthen fordi, at jeg tænker den bliver super god i den røde farve, nu her op til december!
English: As I wrote last Thursday, I spent last weekend at the vocational school here in Odense, because skilled Nanna had ventured to Funen to hold a sewing workshop.
I had two really nice and instructive day. But I was very tired after those two days ..!
I am not exactly a morning person, and at the moment where I often first go to sleep at 01-02 am, I really don't wake up that early in the morning .. So it was a little bit difficult for me, suddenly having to up before 8 am to be in the vocational school at 9.30 am.
But it went well! – And it was a really good experience to be at Nanna's syworkshop! – She is a very sweet and very talented woman!
Therefore I hurried to sign myself up to her next workshop here in Odense, which takes place d. 9-10th of January 2016.
Unfortunately, I didn't finish my dress, but I have sewing on it since last weekend, and I'm not that far from the finish line. Perhaps it'll already be finished today or tomorrow! – I hope and keep my fingers crossed!
And then when I finish this dress, I think I'm gonna sew another one, just in another fabric of course. Just so it'll be a little easier to remember how it's made.
Moreover, (as seen in the picture above) I chose the entirely red fabric for this dress. Simply because I think it's going to be super good in the red color, in December!