Hvert år pynter kendte danskere juleborde hos Royal Copenhagen på Amagertorv, og i slutningen af november var jeg et smut forbi for at se dette års fine juleborde. Hvis du endnu ikke har været forbi kan du kigge med her, og ellers kan du jo få dem genopfrisket ..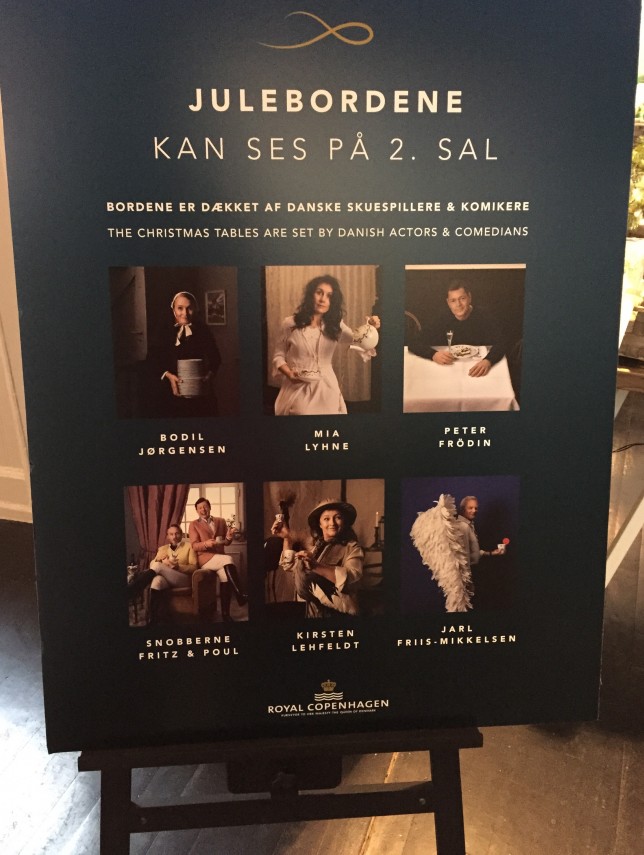 Det første bord er dækket af Jarl Friis-Mikkelsen, som har fået skabt en hel lille juleboble.
Selvom han har så mange transparente ting i spil, får han alligevel skabt et fint rødt/hvidt tema som jo i den grad bringer julestemningen frem.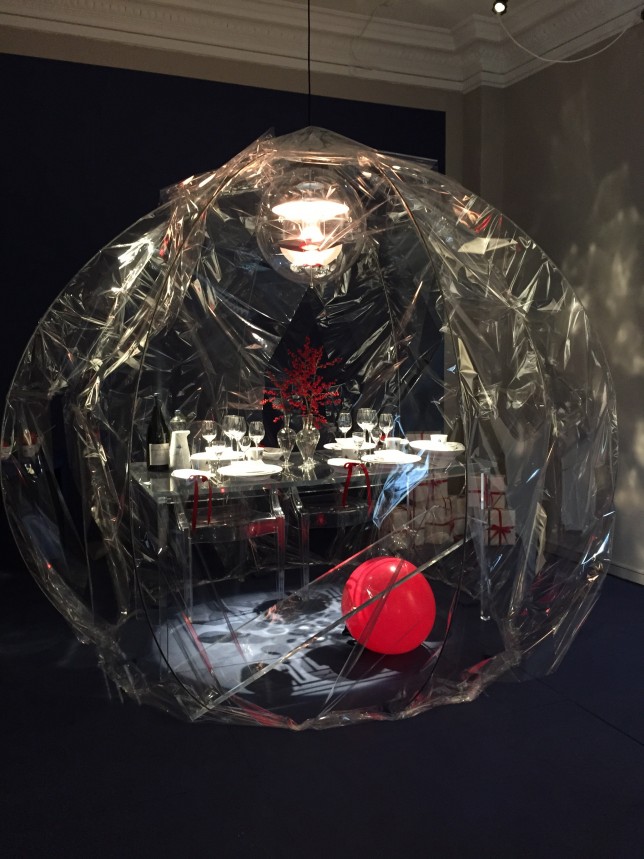 Næste julebord er skabt af Kirsten Lehfeldt, som har et safaritema kørende! – Meget anderledes og forfriskende. Jeg har taget flere billeder af dette julebord, men der hoppede en lille drillenisse ind i min iPhone allerede i november, den har i vært fald drillet mig helt vildt de sidste 3 uger, væk er de andre billeder i hvert fald af uforklarlige årsager ..
Men man kan alligevel lige nå at få lidt en fornemmelse af safarijulebordet. Møbler, puder og tæpper er i neutrale toner, til gengæld er der tilføjet godt med dyreprint, udstoppede dyr, fjer mv.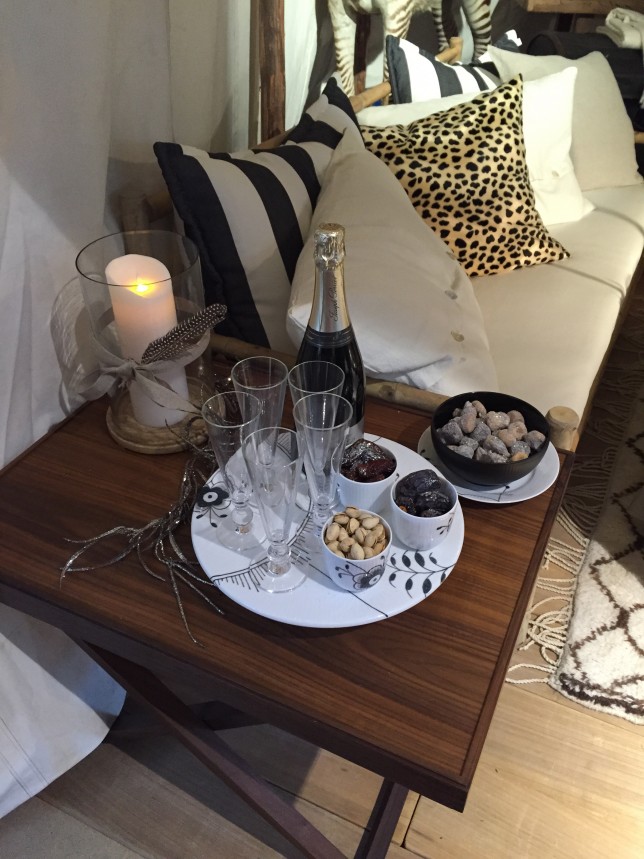 Det tredje julebord er Bodil Jørgensen skaberen af.
Hun har været inspireret af det Sønderjyske kaffebord og har valgt bl.a. at bruge Blå Blomst til dette julebord, hvilket jeg synes spiller super fint sammen med alle de andre gamle blå detaljer.
Det ligner en god gammeldags jul!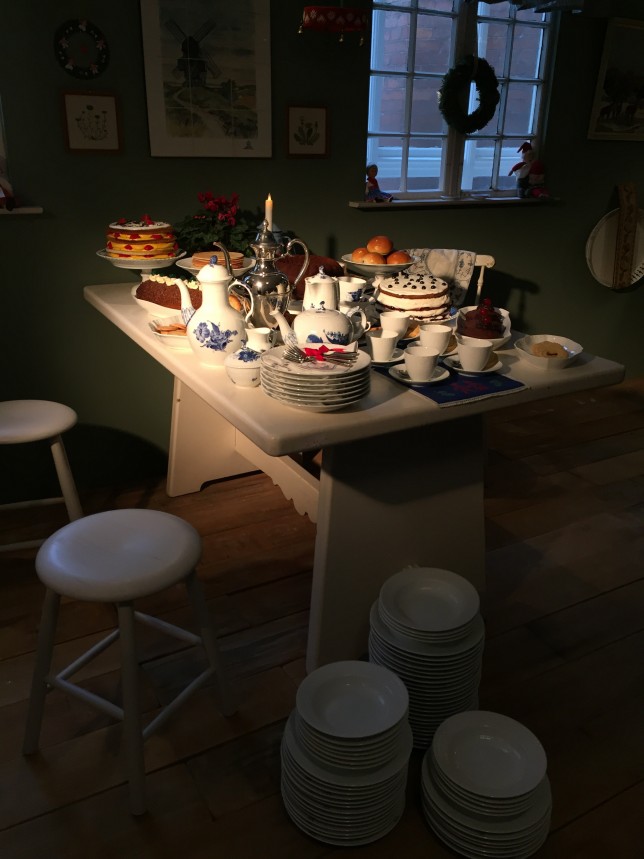 Peter Frödins julebord minder for mig lidt om mødet mellem et værtshus og en lidt finere traditionel julefrokost. Møblerne og de grønne lamper, får stemningen til at virke lidt dunkel som der er på et værtshus, samtidig med at bordet er yderst veldækket. Fin kombi, fint julebord!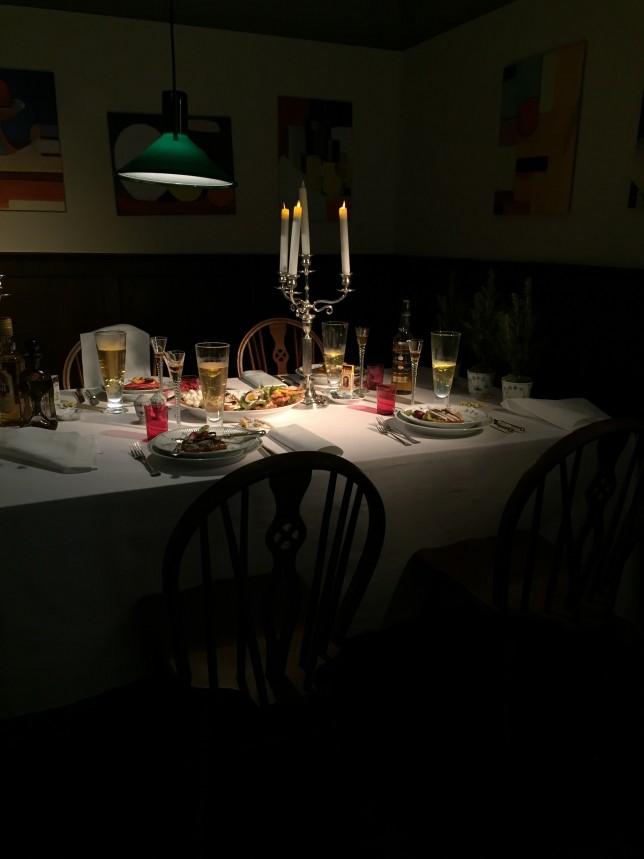 Snobberne Fritz og Poul har også været forbi og dække julebord. Det har de naturligvis gjort med Flora Danica, mindre kan ikke gøre det! Men jeg er faktisk ret vild de lyserøde, guldfarvede og grønlige nuancer der går igen overalt. Yderst flot! Til gengæld er glassene efter min smag, lidt for enkle i denne her sammenhængen ..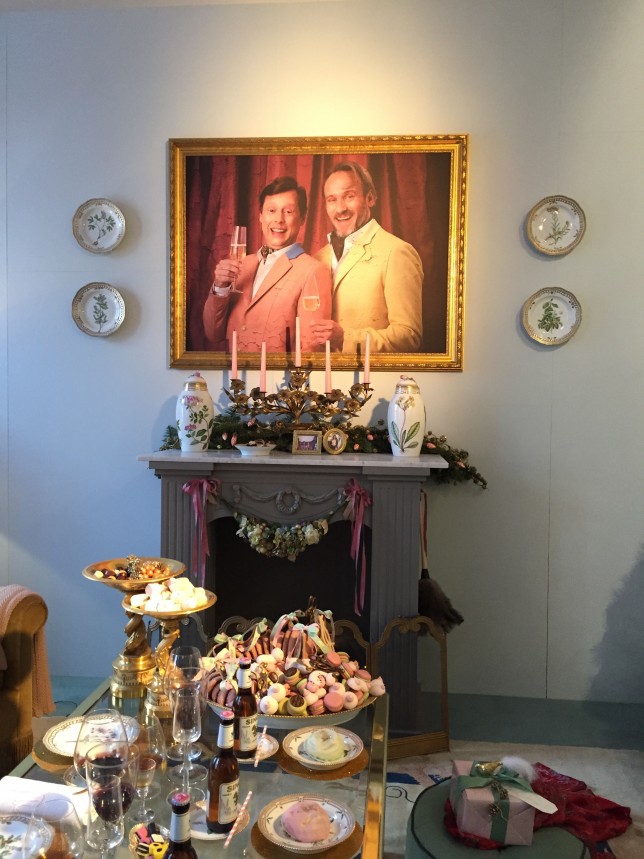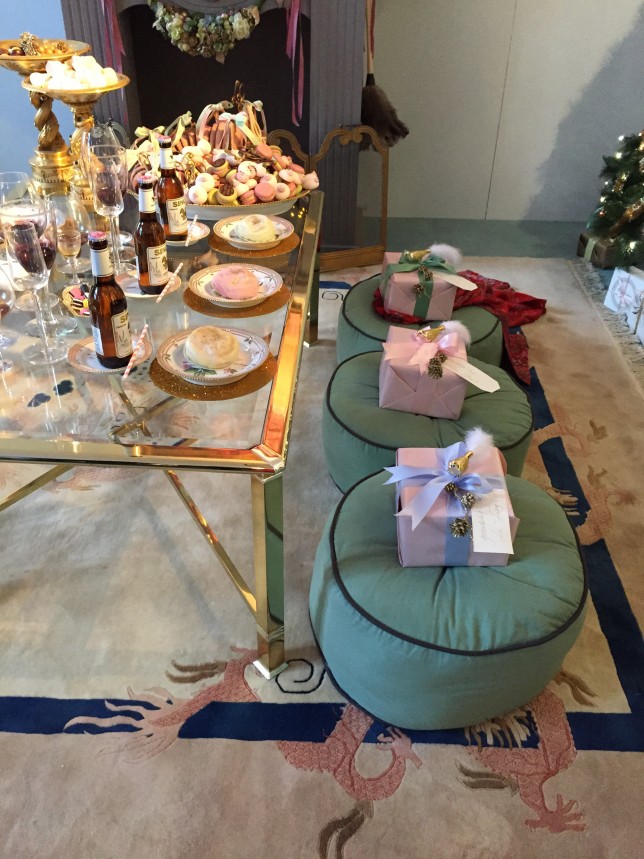 Mit absolut yndlingsjulebord i år, er uden tvivl det Mia Lyhne har pyntet til sig selv og sine to piger!
Jeg synes simpelthen det hele er så fint, og jeg får i den grad lyst til at hoppe i nattøjet og sætte mig under dynen for at spise lækker mad og beundre juletræet!
Detaljen med at julemanden er på vej væk synes jeg i øvrigt også er ret sød ..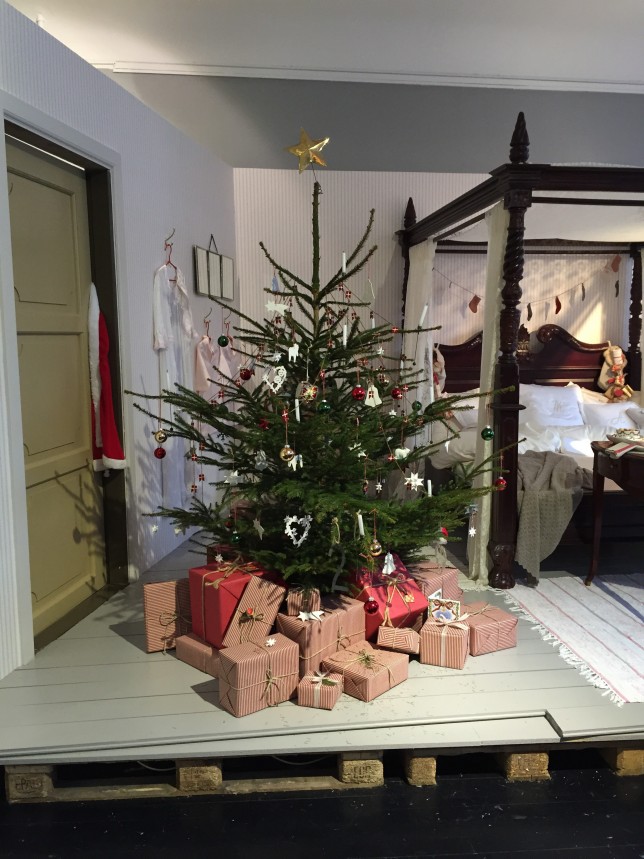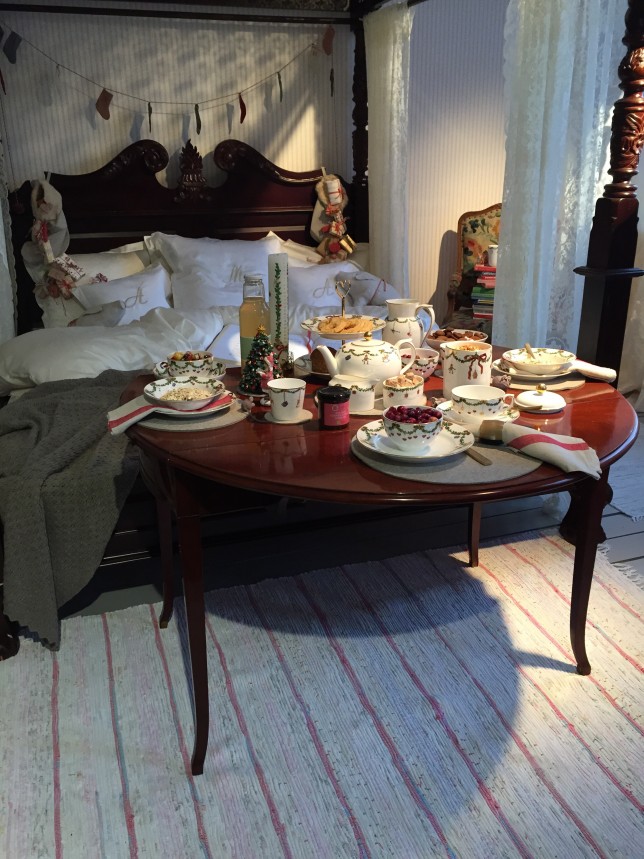 Hvilket et er dit yndlings julebord?
---
English: Every year at Christmas time, adorns known Danes are setting a Christmas table at Royal Copenhagen at Amagertorv in Copenhagen. And in late November, I dropped by to see this year's six fine Christmas tables. Have you also seen them this year? ..
The first table is by Jarl Friis-Mikkelsen, who have created a great little Christmas bubble.
Although he has used so many transparent things, he brings the Christmas spirit forward with the red and white theme.
Next Christmas table is created by Kirsten Lehfeldt which has a safari theme going on! – Very different and refreshing. I have taken several pictures of this table, but my iPhone is teasing me theses days, so the other pictures are gone. But you can still just manage to get a little feeling of her Christmas table. Furniture, pillows and blankets are in neutral tones, and then she added some animal prints, stuffed animals, feathers, etc..
The third Christmas table is Bodil Jørgensen the creator of.
She has been inspired by the traditional "South Jutlandic coffee table" and chose among others using Blue Flower for this table, which I think plays super well with all the other old blue details.
It looks like a good old-fashioned Christmas to me!
Peter Frödins Christmas table reminds me a little about the meeting between a tavern and a finer traditional Christmas party. The furniture and the green lights will have the mood to be a bit obscure as there is in a bar, while the table is extremely well-provided. Fine combination, fine Christmas dinner!
The snobs Fritz and Paul (from danish tv) have also been setting a Christmas table. Obviously, they have used the Flora Danica, less can not do it! But I'm actually quite happy about the pink, gold and green shades that they put together everywhere. Extremely beautiful! In return the glasses is for me, a little too simple ..
My absolute favorite Christmas table this year is without doubt the table that the danish actress Mia Lyhne has decorated for herself and her two little girls!
I simply think it's all so beautiful, and I would happily jump in a pajamas and sit under the covers to eat delicious food and admire the Christmas tree!
The detail of that Santa Claus is on his way out, I think, is quite sweet ..
Which one is your favorite Christmas table?