Selvom jeg har været væk fra bloggen siden i torsdags, og har været næsten helt væk fra både Facebook og Instagram siden i fredags, så er tingene ikke gået helt i stå i min lille vintageverden. Tværtimod.
Jeg har fået bestilt et par ting, og i går modtog jeg atter en ny gammel kjole.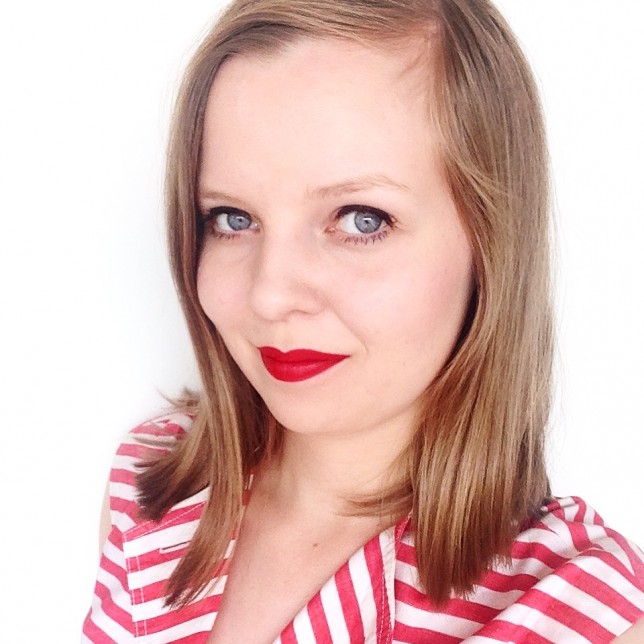 Det er den fineste bolchefarvede 1950'er kjole i tykt bomuldsstof. Den mangler den øverste knap, men efter at have prøvet den på, besluttede jeg mig for at stryge den, så den har v-udskæring i stedet for. Det synes jeg faktisk fungerer bedre for denne kjole til mig. End hvis alle knapper var der, og var knappede.
Jeg opdagede den på Instagram mandag i sidste uge, og skyndte mig hen til min computer for at se flere billeder af den. Jeg synes den var så sød og sommeragtig, og så mindede den mig om da jeg var lille og var med mine forældre og lillebror på Bornholm. På den ferie havde jeg en dag en rød/hvid stribet trøje på, samtidig med at min lillebror havde en blå/hvid stribet på. Så vi blev kaldt "det rød-stribede og det blå-stribede monster". Og så synes jeg samtidig at det var lidt hyggeligt, at det er Dannebrogs farver, så den måtte altså hjem til mig. Det var meant to be, når nu den faktisk var i min størrelse!
Og med denne nye gamle kjole, mit smalle røde bælte til taljen, samt mine hvide ballerinasko, kan sommeren bare komme an! Jeg er SÅ klar til solskinsvejr og blå himmel.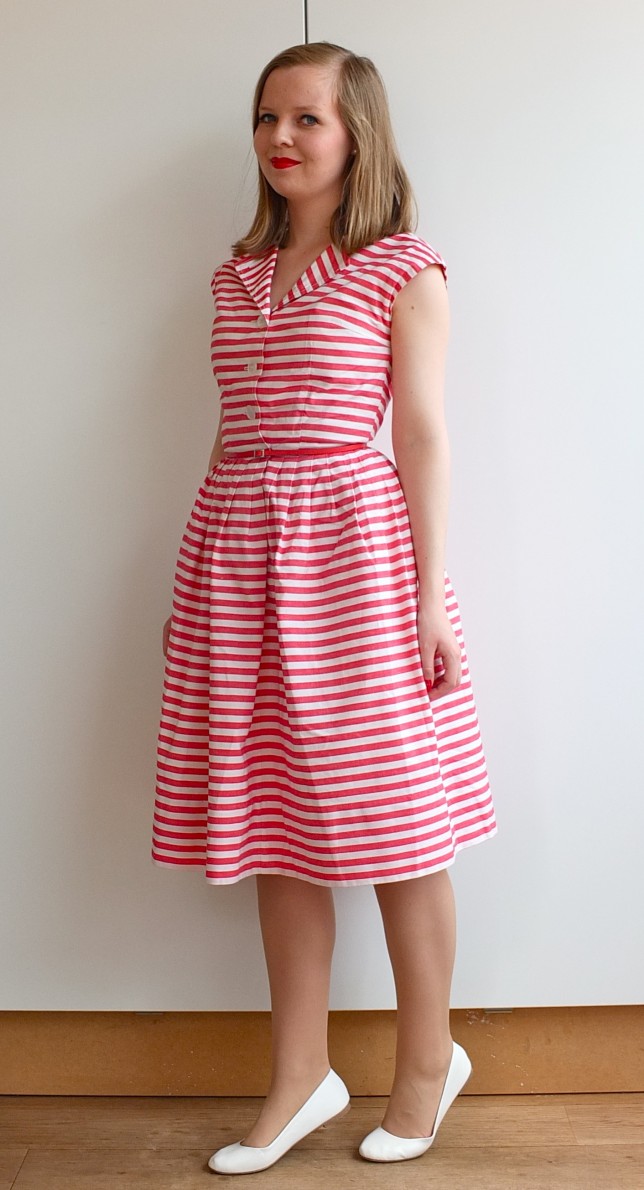 English recap: Although I have been quiet here on the blog, on Facebook and on Instagram the last couple of days, the time haven't been stopped in my little vintage world. Yesterday I received yet another cute vintage dress, this time it's a red / white striped 1950's dress, that I just couldn't resist to buy. 
The dress is missing the top button, but I really don't care, because I actually think that it's better for me to have the two upper buttons open, so the dress is having a v-neck. It's so much more summer like. 
I saw it on Instagram at monday last week, and it just felt so right for me to buy it. It has the same colors as my country's flag ( The Danish flag, "Dannebrog" ), it reminded me of when I was a little girl on a vacation to Bornholm and I was wearing a red / white striped shirt, the same day as my little brother was wearing a blue / white striped t-shirt, then our parents called us " The red-striped and blue-striped monsters".  So with this dress, my red belt and my white ballerinas I'm looking forward to the summer weather!