I mit første indlæg på denne nye hjemmeside til bloggen, viste jeg mit lille SNEAK PEAK billede fra Instagram, af mine nye vintage bukser.
Jeg har endnu ikke flere billede at vise, men jeg har planer om at få taget nogle flere billeder og få lavet et blogindlæg om dem i næste uge.
En ting jeg kom til at tænke på var, at jeg slet ikke har fået vist mine vintage short, jo jo sådan et par har jeg da også fået købt mig ..
Jeg har endnu ikke fået dem brugt, da jeg ikke har syntes at vejret har været til det men det kommer vel når vi kommer sommeren nærmere. Jeg synes shortsene er ret søde i udtrykket og de får mig til, endnu engang at tænke på den yderst stilfulde Betty Draper fra Mad Men.
Her er hun i en sen 1960'er udgave. Lidt for sen udgave efter min smag, men hun har næsten stadig det shorts look som jeg tænker på. Her er de bare krympet lidt i længden og er i en lidt mere neutral farve.
Udover at få mig til at tænke på Betty Draper, så synes jeg faktisk også der er lidt golfshorts over dem, nok mest fordi de er i afdæmpet i farven og har tern.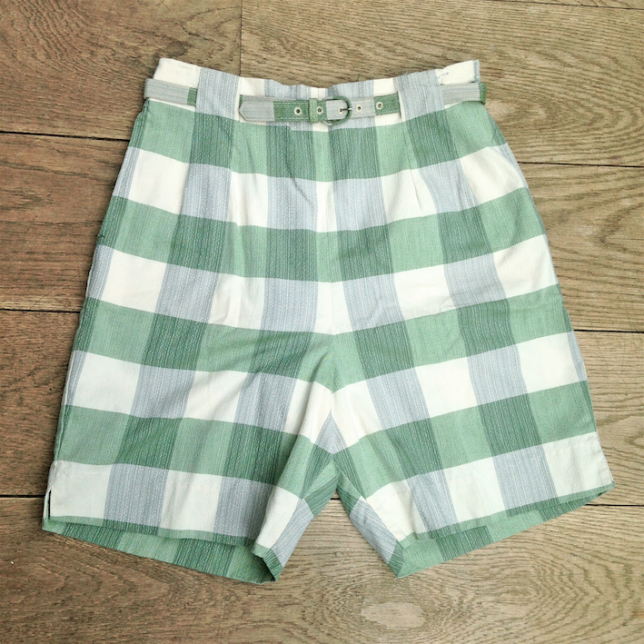 Men det jeg nok især faldt for ved dem er, at de stadig har det originale bælte med sig. Det er jeg ret vild med. For jeg elsker virkelig når vintagetøjet stadigvæk har det originale bælte. Jeg synes det er så fint når det matcher, og jeg kan virkelig godt lide når min samling af vintagebælter udvides.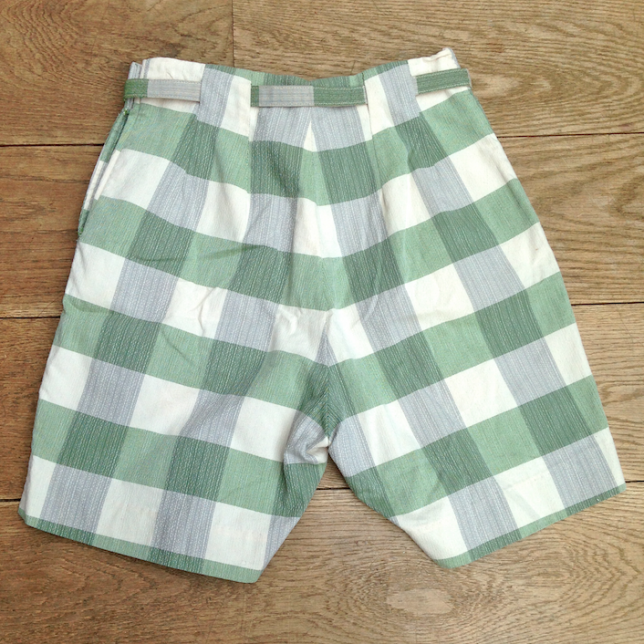 Jeg har endnu ikke haft det store held med at finde enlige bælter som jeg godt kunne lide. Så når tøjet kommer med eget bælte klapper jeg ofte i mine små hænder, for det giver mig jo mulighed for også at bruge bæltet til et andet outfit end det som det oprindeligt hører til.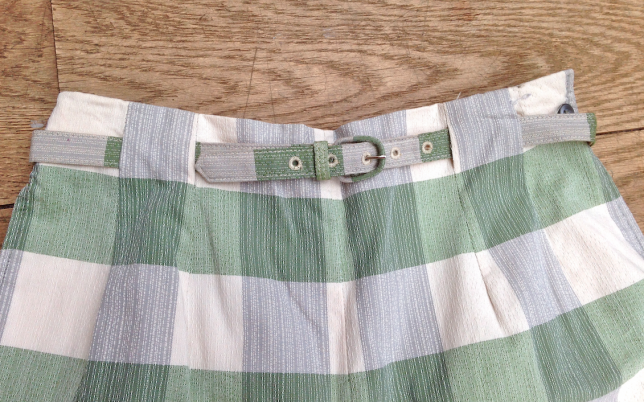 English recap: I think I'll show you some more pictures of my new vintage slacks next week, I just have to take some first. For now I'll show you my vintage shorts instead. I think they'er really cute, and I'm looking forward to wear them when the weather's getting a little warmer.
They actually remind me a lot of Betty Draper from Mad Men. The picture is from one of the latest seasons of the show (at the late 1960's),  and I actually think it's a little too late in the 1960's, so She doesn't have the exact look that my shorts makes me think about. The shorts are in a wrong fabric and they are a little too short, but it's good enough if you have seen the early seasons of Mad Men I think.