Sikke en skøn weekend jeg har haft, og stadig har et par timer endnu ..!
– Har jeres weekend også været god?
Denne weekend har for mit vedkommende indeholdt den rette blanding af oplevelser, gøremål og afslapning.
Fredag aften var jeg i Mosen, for at få årets (næst) første Julebryg, da Albani kom sejlende med Blålys og Rødhætte. Man skal jo holde traditionerne i hævd, så jeg havde naturligvis taget en lille nissehue på hovedet i dagens anledning, den har jeg haft på de sidste par til J-dag.
Efter en enkelt Blålys cyklede jeg hjem igen, for jeg skulle være frisk til om lørdagen, hvor jeg skulle passe min søde 6-årige kusine Naja, indtil hun skulle afleveres til en børnefødselsdag her i nabolaget.
Efter at have haft nogle hyggelige timer Naja, gik min mor og jeg ind til gågaden, og på vores tur derind gik vi igennem en smuk efterårspyntet Kongens Have.
Aftenen blev sluttet af med at se DMA, hvor højdepunkterne helt klart var da Tim Christensen blev tildelt DMA Æresprisen 2015, Mads Langers tale til sin "Storebror" og store idol, samt Dizzy Mizz Lizzy's optræden ..!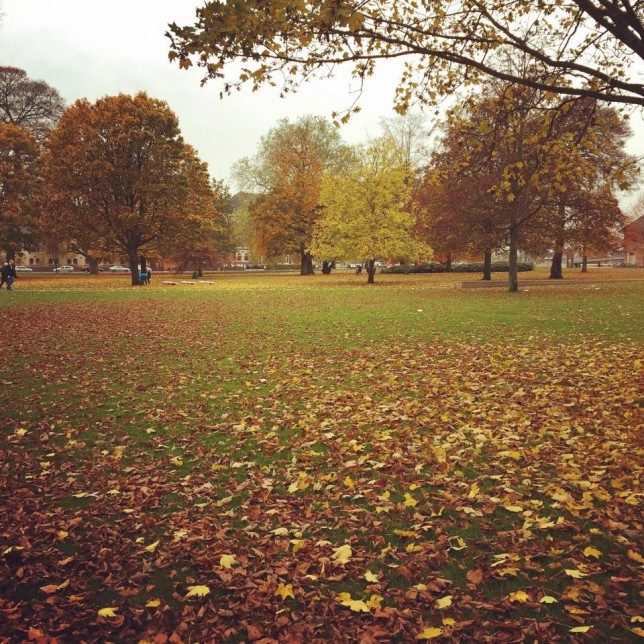 Dagen i dag har både været mere afslappende, men også mere produktiv.
Min mor og jeg har fået ryddet op og rykket rundt i den kreative stue, her hos mine forældre.  Nu er der to borde at sidde ved, og symaskinen kan stå fremme hele tiden. Det er blevet meget bedre, og langt hyggeligere end før.
Da vi var færdige med at rykke rundt i stuen, satte vi os ned ved bordet ved vinduet, for at nyde et øjebliks ro med te og æbleskriver .. Inden vi foldede et par julestjerner hver.
Og nu sidder jeg så her ved min computer, hvor jeg hører gammel jazz og nyder det sidste af weekenden ..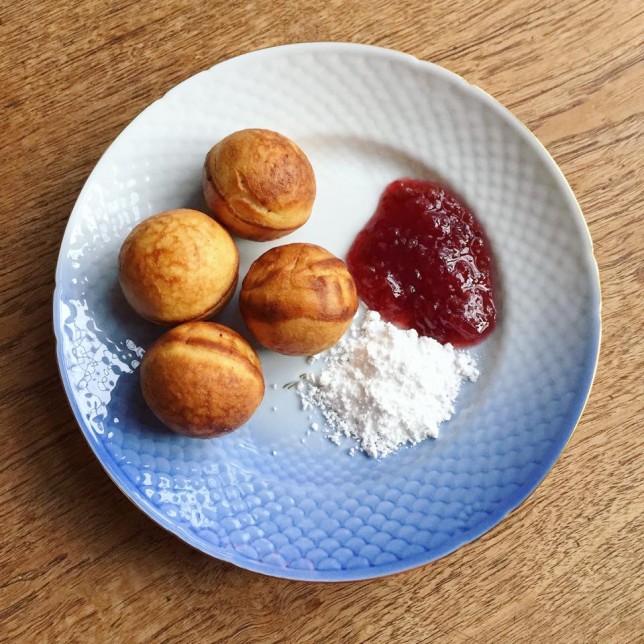 English: What a wonderful weekend I have had, and still have a few hours yet ..!
– Have your weekend also been good?
My weekend contained the right mix of experiences, chores and relaxation.
On Friday night, I was in "Munke Mose", to drink this year (second) first Christmas Beer as Albani sailed with "Blålys" and "Rødhætte". You have to keep the traditions alive, so of course I had taken a small hat on in my hair for the occasion, that I have had in the last couple of "J-Days".
After a single christmas beer I bicycled back home, so I would be fresh for Saturday, where I was supposed to babysit my cute 6-year-old cousin Naja until the time were She was invited to a birthday party here in the neighborhood.
After some pleasant hours spent together with Naja, my mom and I went to the pedestrian zone, and on our walk, we went through a beautiful autumn adorned King's Garden.
The evening ended with seeing Danish Music Awards, where the highlights were clearly when Tim Christensen was awarded DMA Honorary Award in 2015, Mads Langer's speech to his "Big Brother" and idol, and Dizzy Mizz Lizzy's external ..!
Today has been both more relaxing, but also more productive.
My mother and I have cleaned up and moved around in the creative living room here at my parents house. Now there are two tables to sit at, and the sewing machine can stand out all the time. It is much better now and much cozier than before.
When we were finished with that, we sat down at the table by the window to enjoy a quiet moment with tea and apple writes .. Before we folded a few poinsettias each.
And now I sit here at my computer, where I hear some old jazz and enjoying the last moments of this weekend ..