ALT for damerne har en konkurrence kørende på Instagram hvor man kan vinde et 3-måneders abonnement på ALT for damerne. Du deltager i konkurrencen ved at lægge et billede op på Instagram af en gammel ALT for damerne forside, og hashtagge #ALTfordamer og #ALTtvintage.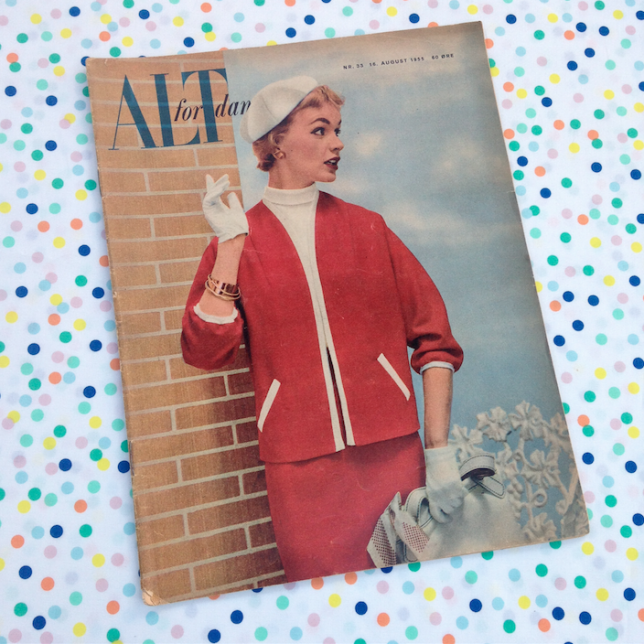 Konkurrencen er samtidig en god undskyldning for at finde alle sine fine gamle ALT for damerne blade frem fra gemmerne. Og det er så skønt at se forsiderne fra andres gamle blade, på den måde kan man dele glæden over de gamle blade med andre. Men skynd dig, for konkurrencen løber kun til på søndag!
For ca. en måned siden købte jeg en god bunke af de gamle ALT for damerne blade, så jeg er kommet på den anden side af 60 gamle magasiner.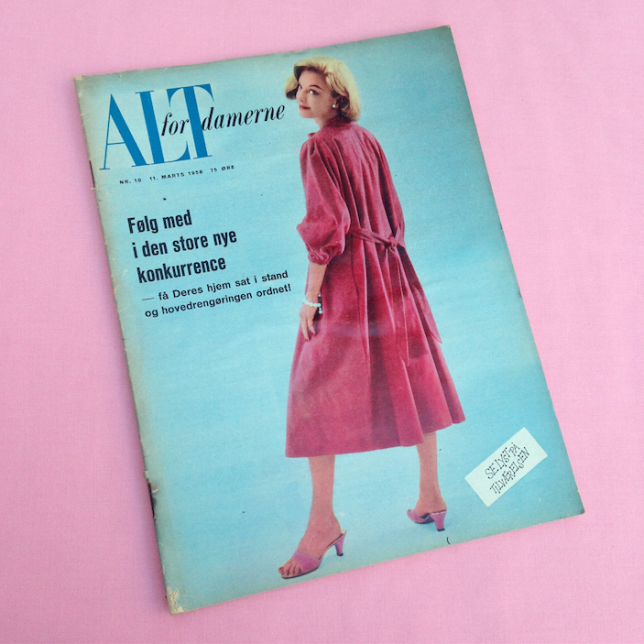 Og jeg nyder sådan at bladre igennem dem, selv reklamerne er fine og finurlige på hver deres måde. Jeg elsker når der er billeder af noget tøj eller tilbehør, gode idéer accessories eller indretning og små artikler om stort og småt, så kan man virkelig fornemme tidens vingesus og få bare en lille fornemmelse af, hvordan verdenen så ud dengang.
Det er først i dag, at jeg har givet mit bud på en vinderforside i konkurrencen, selvom jeg tidligere har lagt et par gamle forsider på Instagram. Men jeg kan ikke helt afvise, at jeg måske ligger endnu en forside op på min Instagram inden på søndag. Mit bidrag ses nedenfor.
Du kan se alle de andre deltagende forsider lige her. Der er rigtig mange fine!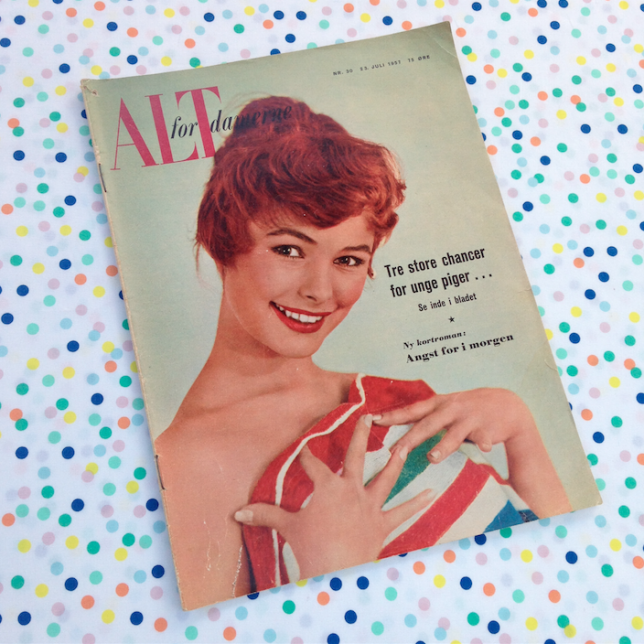 English recap: The Danish magazine "ALT for damerne" ( Everything for the ladies ) has a competition on Instagram. All you have to do is to take a picture of the cover of a vintage ALT for damerne magazine and hashtag #ALTfordamerne and #ALTvintage. The competition ends at sunday.
The competition is also a good reason to go looking for all your old magazines, at it's great to share those beautiful vintage cover pictures at Instagram!
For about a month ago I bought a bunch of the old ALT for damerne magazines, so my collection is now more than 60 old magazines.
And I enjoy so browsing through them, even the commercials are fine and quirky in their own way. I love when there are pictures of some clothes or accessories, good ideas accessories or decor and small articles  so you can really sense how it was to live back and what the world looked like.
Although I had shared two covers of ALT for damerne on my Instagram for some months ago, I didn't attend in the competition before today. And here's my contribution. You can see all the other participating covers right here. There are many fine ones!