Jeg har længe (som i meget længe) været på udkig efter en lille kommode med 3-5 skuffer til de stykker tøj som ikke lige kan hænges op på bøjler, deriblandt cardigans og lingerie.
Det har taget mig utrolig lang tid at finde den helt rigtige, men det er nu (heldigvis) endelig lykkedes!
Jeg har været i genbrugsbutikker, kigget på DBA og Lauritz.com, og også holdt øje med de mange butikker jeg følger på Facebook og Instagram .. Og så endelig en dag for 3-4 uger siden dukkede der et billede op på Facebook af den kommode som nu står og pynter hjemme hos mig. Det var butikken Fru Fin som lagde et billede op af kommoden, som jeg skyndte mig at reservere til næste dag.
Dagen efter cyklede jeg hen til Fru Fin for at kigge nærmere på kommoden, og jeg endte med at reservere den til dagen efter igen, hvor jeg så kunne komme i bil og hente den.
Jeg kan især godt lide grebene på kommodens små skuffer, samt det at nøglen stadig hører med, den er så super fin ..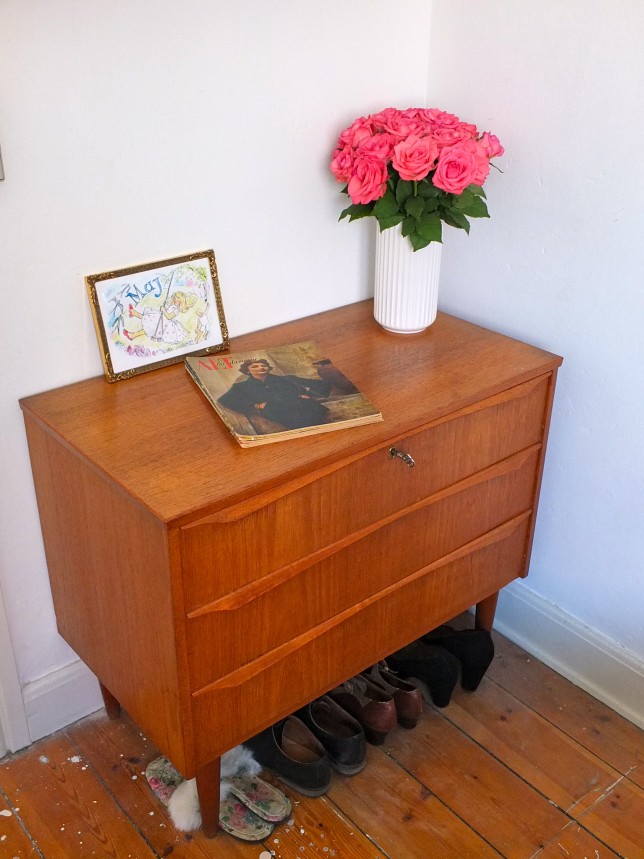 Dagen efter kom jeg og hentede den lille kommode, og jeg havde heldigvis lokket min søde lillebror med, så vi lavede en lille tur ud af det, som bl.a. indebar at spise Paradis is på Flakhaven i det skønneste solskinsvejr! Det blev til den hyggeligste Søskendedag, hvilket var godt timet, fordi han flyttede til Aalborg i søndags og der derfor nu godt kan gå noget længere tid mellem at vi kommer til at ses ..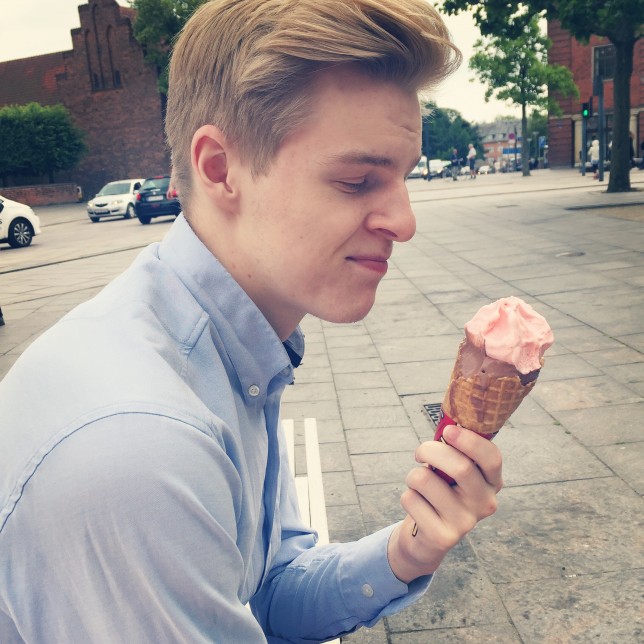 De smukke blomster som i disse dage så fint pynter på kommoden fik jeg af min lillebrors kæreste Louise til min fødselsdag i fredags. De er virkelig flotte i farven!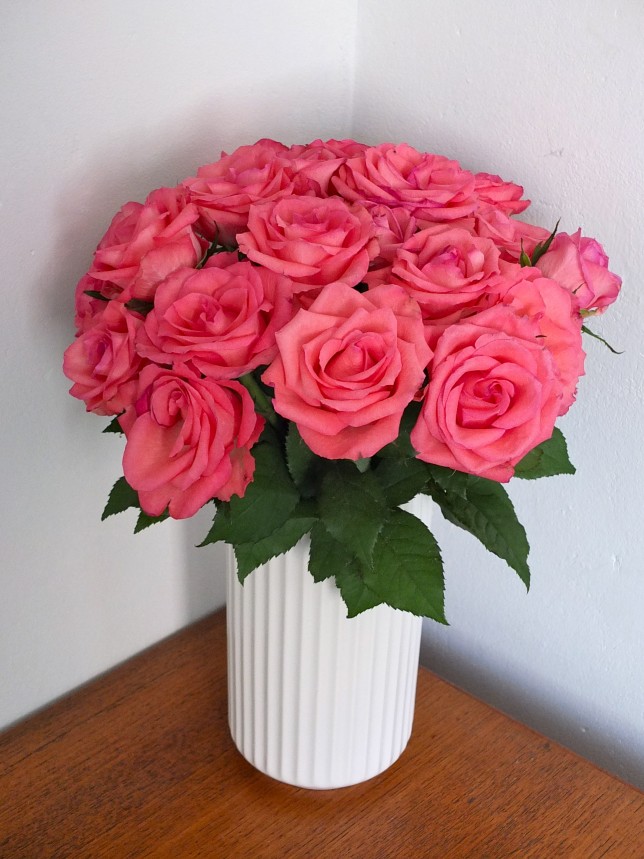 Et ALT for damerne blad fra 17. august 1954 ligger også fremme, til at lade sig inspirere af ..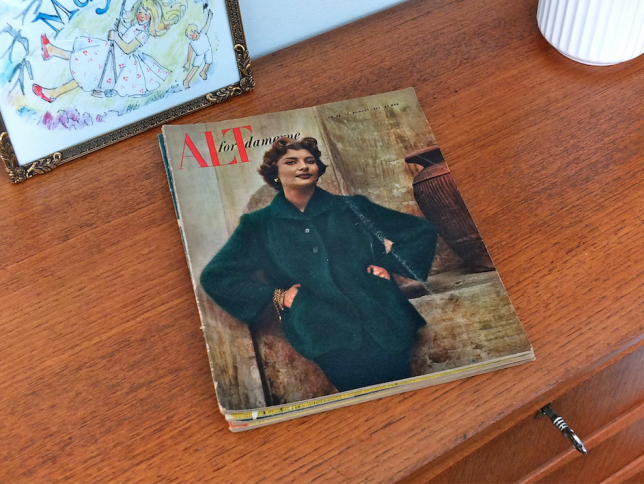 Og det fineste maj-postkort jeg har puttet i ramme, er et min mormors tante Doreen Middelboe har tegnet for nogle år siden, da hun stadigvæk levede. Hun tegnede et postkort for hver måned, men det der lige nøjagtig gør dette lidt særligt er, at de to børn på postkortet er min lillebror og jeg, og derfor synes jeg det er ekstra hyggeligt at have fremme, også selvom det ikke er maj måned.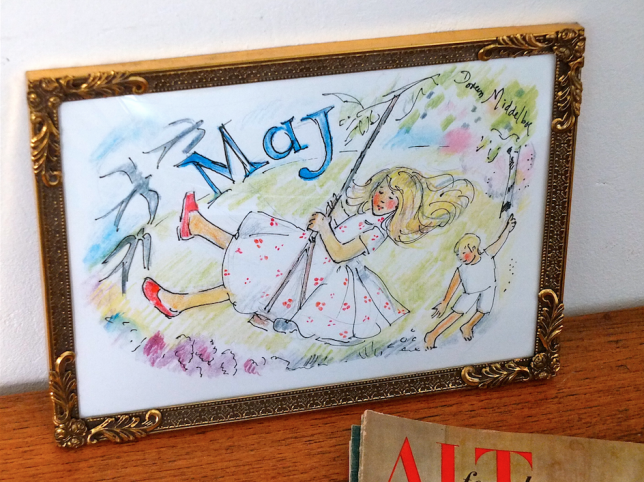 English: For a long time (as in a very long time) I have been looking for a small dresser with 3-5 drawers to put my cardigans and my lingerie in.
It took me an incredibly long time to find the right one, but I finally succeeded!
I have been in thrift stores, looked at DBA and Lauritz.com, and also watched the many shops I follow on Facebook and Instagram .. And then finally one day for 3-4 weeks ago there appeared a picture up on Facebook of the dresser which is mine now. It was the store "Fru Fin" (Mrs. Fine) who put up an image of the small dresser, and I hurried to reserve it for the next day.
The day after I cycled to Mrs. Fine for a closer look at the dresser, and I ended up reserving it for the day after again, so I could take the car and pick it up.
I especially like the levers of the dressers small drawers, as well as the the key still belongs, it is so super cute ..
The day after I came for the small dresser, and I fortunately had lured my sweet little brother, so we made a little trip out of it, inter alia, meant to eat ice cream at Flakhaven in the beautiful sunny weather! It was the best Siblings Day, which was well-timed, because he moved to Aalborg on Sunday and, therefore, we don't get to see each other that often .. 
The beautiful flowers which decorate the dresser these days, I got from my little brother's girlfriend Louise for my birthday last Friday. They have a really beautiful color!
An old magazine from August 1954 is also decorating the dresser ..
And I've put the cutest May postcard in a frame. It's actually my grandmother's Aunt Doreen Middelboe who designed it some years ago, when she still lived. She drew a postcard for every month, but what exactly does this one a little special is that the two children on the postcard is my little brother and I, and therefore I think it's extra nice to look at, even though it's not May ..